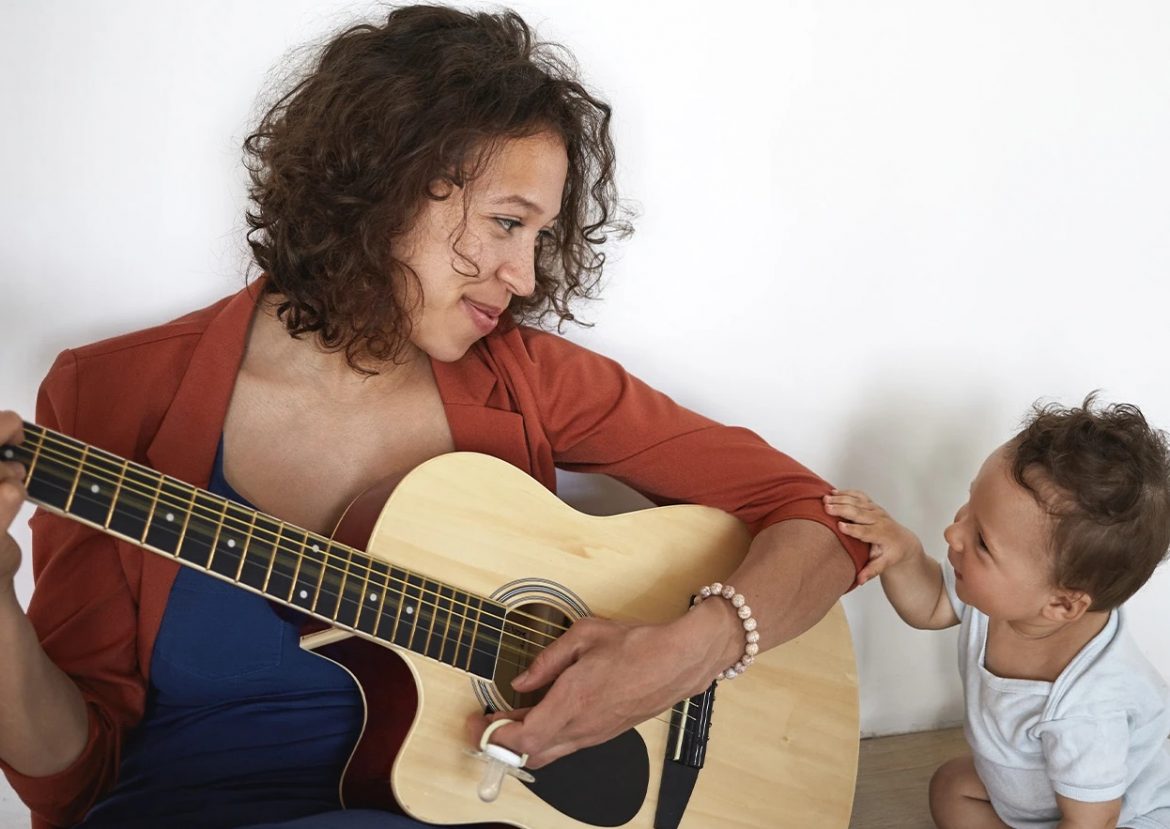 Most parents use music to relax and soothe their children while expressing their love and joy to them. It's also a way to connect and communicate with your kids from the moment they are born. All parents need to learn how music can influence child growth, enhance social skills, and support kids of all ages. Moreover, many artists have used music to honor their children and share their own sweet feelings as mothers and fathers. Here are some heartwarming songs for your beloved children.
"Isn't She Lovely" by Stevie Wonder (1976)
This great song about a baby girl's beauty will capture you from its first beat. It's a beautiful classic composed and sung by a living legend. The song was written for his daughter, Aisha, to celebrate her birth and the outro features real recordings of father and daughter playing together. Stevie Wonder captures the meaning and feeling of loving a heaven-sent daughter on this album.
" I can't believe what God has done
Through us he's given life to one
But isn't she lovely made from love "
"Lullabye (Goodnight, My Angel)" by Billy Joel (1993)
His song "Alexa Rey," which has been covered several times, was written about Joel's own daughter. In this bedtime lullaby, Billy Joel, a master of lyrics and melody, effortlessly communicates the basic yet deep bond between a parent and child. This beautiful and unforgettable song captures the message of a parent's unending wishes and unconditional love for his daughter. This album, like so many others by Billy Joel, manages to capture and blend both the magical beauty and the infinite reality of living.
" Wherever you may go
No matter where you are
I never will be far away
You'll always be a part of me"
"Just the Two of Us" by Will Smith (1997)
Will Smith is well-known not only for his outstanding acting roles in blockbuster movies but also for his outstanding musical abilities. In his life, the artist has written a wide range of songs that have captured the hearts of his fans and pushed him even more to worldwide fame. Will Smith wrote a song about one of his sons, Trey, that melted the hearts of his fans. This song represented Will Smith and his son Trey, and later featured some of the most well-known celebrity fathers and their children, with a focus on father-son relationships.
"And I wanna spend some time with you
Just the two of us
Building castles in the sky"
"A New Day Has Come" by Céline Dion (2002)
This album appears to be yet another love song, but one that is a bit sentimental. However, its real meaning is more complex. Céline Dion had wished for a child for a long time and after many difficulties, was finally blessed with a son. She made her comeback with this album, A New Day Has Come, two years after René-Charles was born. On this album, she sings about how much she has suffered and how much she wishes to have a child. Finally, the "angel" baby arrived, and it became her "light in the sky." She is so moved by this new baby that her whole universe has changed and a new day has begun, and she can now say to this child the light of her life.
"Where it was dark now there's light
Where there was pain now there's joy
Where there was weakness, I found my strength
All in the eyes of a boy"
"Sweetest Devotion" by Adele
Adele's albums are loaded with songs about some guy who has broken her heart and hurt her feelings, but in "Sweetest Devotion" from her new album, 25, she sings about the one (young) man who was able to finally mend it: her son, Angelo. In an interview with USA Today, Adele said "My kid is the focus of the album" when she was talking about the final track of her third album, "Sweetest Devotion".
"I wasn't ready then, I'm ready now
I'm heading straight for you
You will only be eternally
The one that I belong to
The sweetest devotion"
Beautiful, the lyrics of these songs come from the heart, and that must be why we love them so much! That said, we are not done yet! We have a few more songs that deserve a mention as well. Some of them might even make you cry a little. Without further ado, these 15 lovely songs are yours, enjoy!
Father and Daughter, Paul Simon
Ho, Hey, The Lumineers
Forever Young, Rod Stewart
Girls Just Wanna Have Fun, Cyndi Lauper
I Hope You Dance, Lee Ann Womack
Kooks, David Bowie
My Girl, The Temptations
It Won't Be Like This for Long, Darius Rucker
In My Life, the Beatles
Beautiful Boy (Darling Boy) – John Lennon
Blue" by Beyoncé (featuring Blue Ivy)
Godspeed (Sweet Dreams), Dixie Chicks
Home, Phillip Phillips
Lullaby, The Dixie Chicks
"Speechless" by Alicia Keys (featuring Eve)