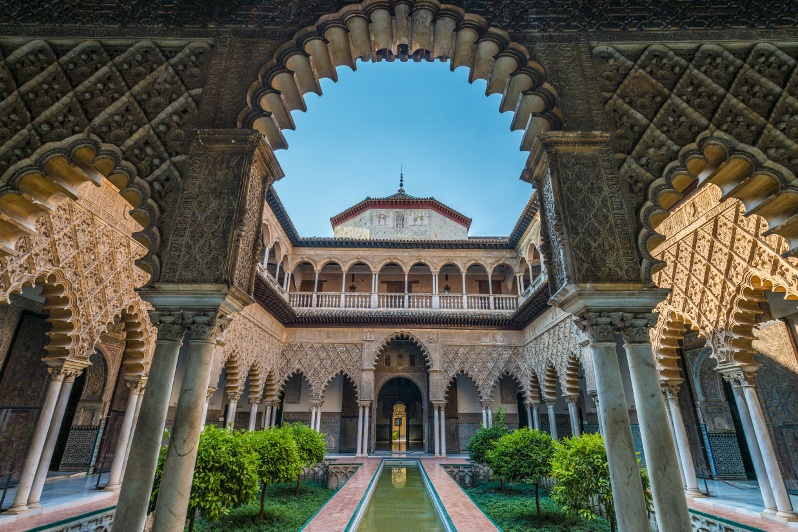 There is much more to discover in Spain than its beaches on la Costa del Sol. From North to South and East to West, the diversity of the people and of the environment is quite important. A trip to Seville and Granada will take you on a journey to Spain's past, when the Moors conquered part of its territory. They left behind buildings and estates of grand beauty; oasis of peace where you'll enjoy walking lazily.
Why Seville and Granada instead of Madrid and Barcelona?
When you take a trip to Europe, it is difficult to choose which country(ies) to visit. Then, you also have to choose which region/cities you will spend time in. To most, Seville and Granada won't come to mind first when they decide to visit Spain. They will be eclipsed by Madrid, Barcelona and la Costa del Sol. But although these cities and regions hold jewels of their own, Seville and Granada offer a unique view of Spain and its history. And the beauty of Seville is hard to surpass.
The best is to take a month and tour as many regions in Spain possible. But before you do so, you will need to check if you need a visa to enter into Europe. If so, then you also need to acquire a health insurance before you leave; one that will cover you in the whole Schengen zone.
Granada and Seville: Don't see one without the other
If you decide to visit Seville, it will be a shame to skip Granada. Why? First: Because it is quite close and easy to access, either by train or by car. Secondly: if you visit the Royal Alcázar in Seville (which you HAVE to do), then you absolutely need to go to the Alhambra in Granada, to complete your experience.
Although the Alhambra is much bigger than the Royal Alcázar, you will discover the same sensation of peace in both. In fact, the Seville palace, by its more human size, provides an additional level of comfort. When you end up in the garden, at the end of your tour, and you walk around lazily, navigating between the peacocks roaming the ground, you'll probably think that you could stay there forever. In a world of movement, the Alcázar, with its infinite serenity that has gone through time will remind you that living doesn't mean constantly running.
If you were not fully convinced by the architectural prowess of the Arabic designed palace, it is impossible that you won't be blown away by the magnificence of the Alhambra. The way they create waterways throughout the house, to cool it down during the (very) hot summer months in the region, is exquisite. The colours and drawings on the walls are masterful and as you walk, you'll go back in time, imagining what life could be like in such a delightful place. If you have doubts, you should know that Isabelle the Catholic, queen of Spain, had chosen to rest there forever, after her death. But as everything else in her life, her plans did not work out in the end, as her son brought her back to be buried in a much smaller church in town. But you can still visit her original resting place at the Alhambra.
A Mix of Culture
In Seville, once you are done visiting the Alcázar, make your way to the third largest church in the world: The Seville Cathedral. Its size will remind you of how small we all are, and the beauty of its décor will keep you walking around the building, feasting your eyes on paintings, sculptures and other details. Suddenly, you will come face to face with the tomb of Christopher Columbus. It is being held high by sculpted characters. Once you see it, you will never forget its sight.
From there, you will make your way to La Giralda Bell Tower, which is an Arabic addition to the Cathedral. From the top, you will have an incredible view of Seville. It will complete your tour of the Arabic history of Spain, and you can focus on the many other attractions the two cities have to offer.
Where to walk in Granada
Just walking around Granada is an experience in itself. The Albaicín neighbourhood (previously the Arab Quarter) with its narrow streets and well-preserved home from the time when they lived in Spain will be a history lesson. There are numerous stairs in the city centre, but if you are still up for it, you should walk all the way up to catch a view of the Sierra Nevada and watch the sunset.
Where to walk in Seville
The Plaza de España in Seville is the place to go and walk around. You can stroll around the Maria Luisa park and take pictures around the plaza, which is the most famous part of the city. Once that is done, head to the Casa de Pilatos, a beautiful visit you won't regret having made time for.