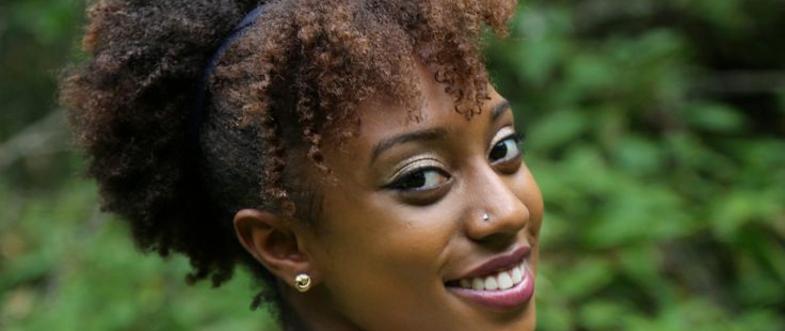 If you have curly hair and are used to go to the gym, you probably know how hard it is to find a tough hairstyle that will last even after working out. Prepare your bobby pins, we are going to show you how to roll, tuck and tie your hair quick and easy but cute and strong enough to survive your workout sessions. Here are some new styles for girls like you who love to work out and still want to look presentable.

Get Ready
Before starting our hairstyles session, you first need to get prepared. Nothing worst than dressing your hair and have to run for a comb while arms up. So today, you will need:
a shine & hold mist
a stay gel
bobby pins
a comb of your choice
goody hair ties
a goody scrunchy
a clip
water
Ready? Then let's get started!
Quick And Easy Hairstyle : The Puff
Only three minutes before you have to leave? No worries. The puff fits just as well for a lazy girl's day as for the gym. Simply spray a little water throughout your hair and add in a few squirts of shine & hold mist. Then use a goody hair tie to double wrap your hair and adjust it to your liking. You can also add a little bit of stay gel to the edges to keep them from flying during workout.
Just Gym Style : The Front Twist
Chill in the front, party in the back, let us present you the front twist. Two minutes starting now! Again, add water and spray some shine & hold mist on your hair. Then, roll and tuck until you get the end and use your bobby pins to toughen it. Best way for this hairstyle is to do it on stretched hair.
Tough Curly Hair Girl : The Top Knot
Need to run quick errands after a gym workout and still want to look presentable? Go with the top knot. Here again, add a little water and some shine & hold mist to your hair, as well as a bit of edge stay gel to give it that sleek look we all love. Use your goody scrunchy to secure it and fold your hair under the scrunchy. If you do it well, you won't even have to use your bobby pins. Challenge accepted?
Cute Workout Style : The Roll And Tuck
For this final hairstyle, sectioned your hair in two and guess the next step ? Yeah, you got it now : add some water and shine & hold mist. Here you will aslo need to add a nice amount of edge stay gel. Then, roll and tuck your hair adding as many bobby pins as you need to secure it, first at the midway point and then again at the end. Follow the same direction on the other side – or a different one if you're looking for an uneven crazy style -, tie it down and here you go, you cute workout girl!